Plants, Herbs, and Wreaths
Our wholesale greenhouse business is involved in the production of herbs, heirloom tomato plants & vegetables . All plants are USDA Certified Organic.
Our 4in. herb plants are available March-July
Our large selection of gallon heirloom tomato plants are available April-June.
Trays of all plants are available by contract year round.
We have weekly delivery starting in March.
SOME OF OUR HERB PLANTS
(Click on image to enlarge; use arrows to move through images; click on enlargement to return to thumbnails)

THE FOLLOWING IS THE LIST OF OUR TOMATO PLANTS
HEIRLOOM-RED
Brandywine
Stupice
Vintage Wine

HEIRLOOM-YELLOW
Kelloggs Breakfast
Old German
Yellow Brandywine

HEIRLOOM-MAHOGANY
Black Prince
Cherokee Purple
Cherokee Chocolate
Indigo Rose-dark purple
Japanese Triffle
Paul Robeson

HEIRLOOM-SPECIALTY
Green Zebra
Red Zebra
HYBRID RED
Big Beef
4th of July
Early Girl
New Girl

PASTE TOMATOES
Roma
San Marzano

DETERMINATE REDS
Celebrity
Valley Girl

CHERRY TOMATOES
Black Cherry
Red Grape
SunCherry
Sungold
Yellow Pear
Yellow Grape
Washington Cherry
*All Tomatoes are grown in 5×5 new recyclable plastic pot. 8-pots per tray. Plants are staked.
To Place an Order- call 509-322-3684
email: [email protected]
THE FOLLOWING IS THE LIST OF OUR ORGANIC HERB PLANTS
Arugula
Anise Hyssop
BASILS-PESTO TYPE
Genovese
Italian Large Leaf
Napolitano
SPECIALTY BASILS
Holy Basil
Thai
Lemon
Lime
Red Rubin
Red Ruffle
Pluto-smallest leaf
BASIL COMBO POTS-3 VARIETIES PER POT
GOURMET BLEND-Genovese, Thai, Red Rubin
THAI BLEND-Lime, Lemon, Thai
PESTO BLEND-Italian, Pistou, Napolitano
Chamomile
Cilantro
Chives-Regular & Chinese
Chervil
Catnip
Dandelion
Dill-Fernleaf & Mammoth
Lavender-English & Munsted
Lemonbalm
Lemongrass
Marjoram
MINTS
Chocolate Mint
Peppermint
Spearmint
OREGANO
Greek
Italian
PARSLEY
Italian
Curly
ROSEMARY-UPRIGHT
Sage-Garden
Savory-Summer
Shiso-Red & Green
Sorrel
Stevia
Tarragon-French
THYMES
English
French
Lemon
Herbs are grown in 3 5/8 in. new square recycled plastic pot-18 to a tray
To Place an Order- call 509-322-3684
email: [email protected]
(Click on image to enlarge; use arrows to move through images; click on enlargement to return to thumbnails)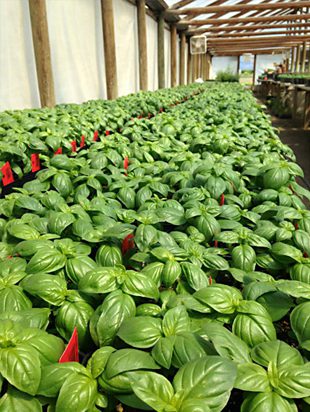 Basil plants ready to go to the market